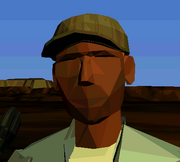 Skeeter is the team's mechanic.
Jade
believes Skeeter doesn't have any known family and she figures people have been taking advantage of him all his life. She also thinks it's likely that he is wanted by the police for crimes he does not even know he committed. He eventually got a job on one of the pit crews of Jade's father. When Jade left racing, he came with her. It strikes her that sometimes he can see things much clearer than others, as if he has some hidden talent. Skeeter teams up with
Taurus
and
Groove
in his
'71 GrooVan
. He performs maintenance, collects salvaged parts from the field, installs upgrades, and repairs the player's vehicle between missions. He goes by the handle "Monkeywrench." Jade suspects he's a narcoleptic.
Ad blocker interference detected!
Wikia is a free-to-use site that makes money from advertising. We have a modified experience for viewers using ad blockers

Wikia is not accessible if you've made further modifications. Remove the custom ad blocker rule(s) and the page will load as expected.